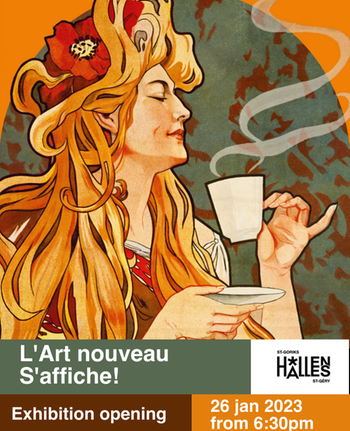 An exhibition of heritage and contemporary posters promoting Art nouveau from yesterday to today.
During the Belle Epoque, the craze for posters was immense. The greatest Belgian and Brussels artists of the Art nouveau period were thus illustrated on the walls of the city, through informative, advertising and cultural promotion posters. Victor Horta, Privat Livemont, Paul Hankar, Henry Van de Velde, Victor Creten, Gustave Flasschoen, all produced striking graphic works. The aim of the exhibition L'Art nouveau s'affiche! is to enable visitors to discover, through an "infinitely generous" medium, both the Art nouveau aesthetic and the art of the artist. The aim of the exhibition is to showcase the Art nouveau aesthetic, the genius of its Belgian poster artists, and the city of Brussels at a time when it was driven by an ideology that reacted against industrialisation.
"Art nouveau on Display" will also be a project that moves away from a classical and contemplative approach to Art nouveau. By inviting contemporary poster artists and typographers, graffiti artists and tattoo artists to give their version of the Art nouveau 2023 poster, the exhibition will establish a strong link between the Art nouveau heritage and contemporary creation.