Designer Spotlight: McDonald Gill, Master of the Pictorial Poster Map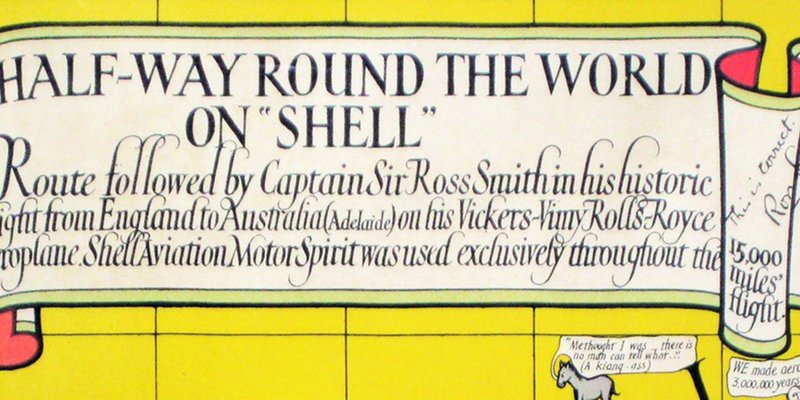 For nearly four decades of the twentieth century, MacDonald "Max" Gill—younger brother of sculptor and typographer Eric Gill—reigned supreme in the world of pictorial mapmaking.
There have been many imitators, but few have matched his artistry, imagination, and technical skill. His painted maps were commissioned by public figures like British Prime Minister Lloyd George, for iconic buildings like the Palace of Westminster. It was his poster maps for organisations such as the London Underground, however, that brought him the greatest acclaim.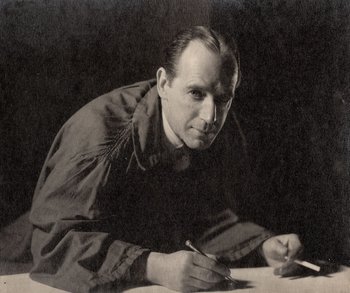 Max was born in 1884, in Brighton—a thriving seaside resort in the south of England. He was the second son and fourth child of thirteen, born to Arthur Tidman Gill, a Congregationalist minister, and his wife Rose, formerly a light opera singer. At the age of sixteen, Max was apprenticed to a Sussex architect, and, in 1903, he joined a London-based architectural firm. A key influence was the calligrapher Edward Johnston, whose classes Max attended at the Central School of Arts & Crafts. Max's elegant Roman letterforms—often with exuberant calligraphic curls and swirls—would set his work apart from that of his rivals. They also exemplified his belief that lettering should be an integral element in the overall decoration of a poster, not merely a means of imparting information.
Max's mapmaking career began in 1908, with a series of painted "wind-dial" maps for houses built by the arts-and-crafts architect Edwin Lutyens. Then, in 1913, Gerard Meynell—a printer friend—introduced Max to Frank Pick, the Publicity Manager for the London Underground. Max's first poster for Pick was The Wonderground Map of London Town—a whimsical portrayal of central London peppered with typically Max-ish jokes and puns. This quad-royal poster was unveiled in March 1914, to a fanfare of publicity: one newspaper declared, "people watch so long, they lose their trains—and yet go on smiling." Meynell (the copyright holder) capitalised on its success by bringing out a folded version that sold at bookstalls for six shillings, and several smaller versions were re-issued in the 1920s.
A few months after the outbreak of World War I, Pick commissioned another poster—this one to boost theatre-going and therefore increase the number of evening tube journeys. One of Max's most imaginative posters, Theatreland depicts a stage with a curtain featuring a map of London's West End and a proscenium arch composed of underground roundels with the theatre names and their nearest stations. Like many of Max's maps it contains references to patrons, friends, and family, including his brother Eric who appears in the top right corner warming his hands at a fire-bomb blaze.
Max Gill's posters appealed to the public on many levels.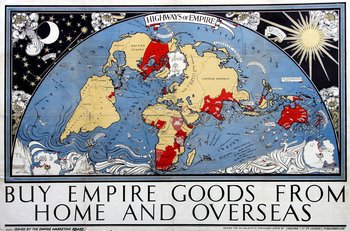 During WWI, Max was based in Dorset where he was architect on a model farm and village project. In 1918, he joined the Imperial War Graves Commission for which he designed the alphabet and regimental badges for the British military headstone. After the War, he and his young family moved to Chichester where his client base expanded to include local shopkeepers and the motor firm Rolls Royce. His prodigious output ranged from memorials to murals, and included posters for the Underground including the enchanting Peter Pan Map of Kensington Gardens.
On New Year's Day 1927, Max's Highways of Empire launched the Empire Marketing Board's legendary poster campaign. This extraordinary 20-foot by 10-foot poster with its hemispherical projection caused such traffic jams and crowds of onlookers in London that the police had to intervene. It was soon mass-reproduced in various formats, including a smaller version suitable as a classroom teaching aid. Later, Max designed seven more EMB map posters, each focusing on the resources of individual areas of the Empire.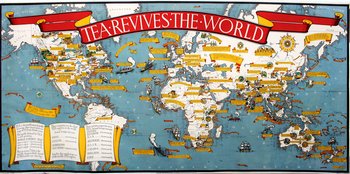 Max Gill's posters appealed to the public on many levels. Although essentially simple, they were always eye-catching. Essential information was displayed in imaginative, sometimes lighthearted ways with clear geographical details alongside beautifully-lettered quotations and comments together with medieval-style decorations such as colourful compasses, wind-cherubs, galleons, star-studded heavens, and curious sea creatures. A Map of Ceylon showing her Tea and other Industries—his first poster for the tea industry—is a good example. His best known tea map, however, would be Tea Revives the World that contains a glorious miscellany of quotations and facts about tea, including such gems as "Sahara Desert: no water to make tea!"
One organisation eager to publicise its modernity in the 1930s was the General Post Office, then in charge of both mail and telecommunications. Max was commissioned to design a new logo as well as three posters including Mail Steamship Routes. These were completed under enormous pressure as Max was also engaged on other major commissions, including a large painted map for the liner RMS Queen Mary and a 200-foot mural for the 1938 Glasgow Empire exhibition.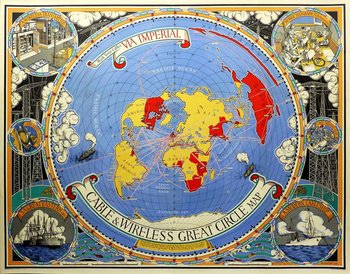 During World War II, Max produced three small propaganda posters showing colonial resources for the Ministry of Information; but, his most important wartime poster was undoubtedly The Time & Tide Map of the Atlantic Charter that trumpeted the peacetime aims drawn up by President Roosevelt and Prime Minister Churchill in 1941. Also printed in French and Spanish, this internationally popular poster sold in thousands. Max would design one last poster: The Cable & Wireless Great Circle Map, published in 1945. The following year he was diagnosed with cancer, and he died on January 14, 1947. The world of publicity is fast-changing, and his posters were soon forgotten. In the last decade, however, a series of exhibitions has brought an enormous resurgence of interest with the result that his posters are now highly prized by collectors. MacDonald "Max" Gill is now firmly back "on the map!"
MacDonald Gill: Charting a Life, a biography written by his great-niece Caroline Walker, is now available at retail and online booksellers or direct from the publisher: www.unicornpublishing.org
You can find more information about the artist at www.macdonaldgill.com
Read or download the full magazine:
Images related to the article - click to see the full image and read captions