Focus on Collection - Going Underground The London Transport Museum Poster Collection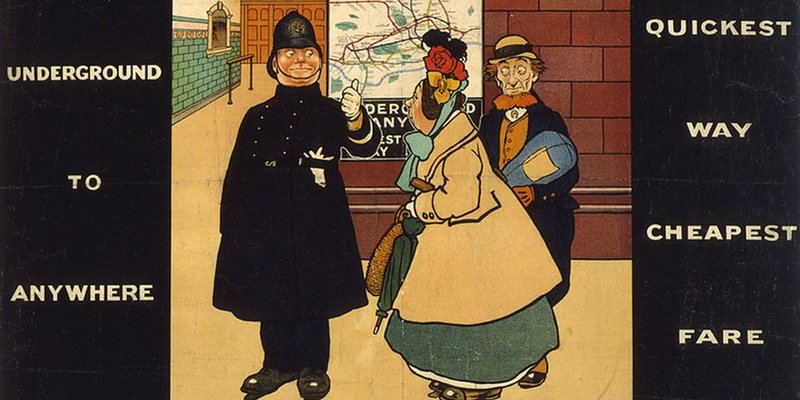 London Transport Museum holds one of the world's greatest, and most complete, poster collections. Over 5,500 different designs trace the story of the Capital's Underground, bus and tram network from the 1860s to the present day. With few exceptions, multiple copies of each poster were retained from about 1908 and are now kept at the museum's purpose-built store in Acton, West London. But the resulting collection is far more than an institutional archive of urban transit. Thanks to a progressive and pioneering approach to publicity, London Transport achieved international acclaim for the vitality and modernism of its poster programme – a tradition that continues today. Collectively, these posters provide a comprehensive record of British poster design in the twentieth century and beyond.
The origins of this remarkable collection can be traced to Frank Pick, a Lincolnshire railwaywan who became Traffic Manager of the 'Underground Group' in 1906. Lacking any formal training in advertising, Pick nonetheless grasped that existing publicity was uninspired and conservative, often the work of jobbing artists rather than specialists.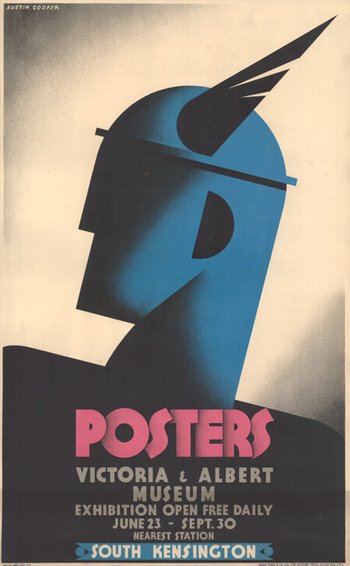 By his own admission, Pick's first attempts at publicity lacked a clear strategy other than to produce attractive, well-laid out, advertising promoting wider use of services outside peak hours. To do this, he commissioned established commercial artists, such as the 'poster king' John Hassall, as well as emerging designers to create a range of poster styles with broad appeal. Inspired, too, by the egalitarian philosophy of the Arts & Crafts movement, Pick was unusual among British advertisers in employing popular female illustrators, like Mabel Lucie Attwell, to lead campaigns. 
Soon Pick's modern, colourful, posters were attracting considerable interest from the press and travelling public alike. In response to demand, the Underground began to sell duplicate copies and arranged poster exhibitions in London galleries from 1917. By now, a clear Underground poster style was beginning to emerge, dubbed 'Tubist' in the press and best reflected in the bold, flat-colour, work of Gregory Brown and the American-born Edward McKnight Kauffer – both of whom got their 'big break' with Pick. Of these, Kauffer was to become the most influential, but there were many others who helped transform the Tube into "London's longest art gallery", including Austin Cooper, Anna Zinkeisen, Rosemary & Clifford Ellis, Paul Nash, Edward Bawden, and Graham Sutherland. Their ranks were swollen in the 1930s by the arrival of progressive European-based designers fleeing Nazi oppression, who found a receptive commissioner in the Underground. In this way, the works of Man Ray, Laszlo Maholy Nagy, Julius Klinger and others were first seen in London on the Tube than in a gallery.
In the meantime, Pick had risen to become the manging director of London Transport (as the Underground was called from 1933) and forged a reputation for overseeing the highest standards of publicity and presentation. Under his leadership, the Underground commissioned its own unique typeface from Edward Johnston (still used today in a modified form), developed a distinctive 'bullseye' logo and employed leading architects to bring a visual unity to the company's vast transport empire. Incredibly, given the range of his responsibilities, Pick continued to take a personal interest in the quality of the Underground's printed publicity and chaired the fortnightly Publicity Department meetings to ensure that all submissions met his exacting standards. He also found time to advise other organisations and exerted a profound influence on the development of modern publicity in Britain.
Pick's legacy continued long after he left the Underground in 1940.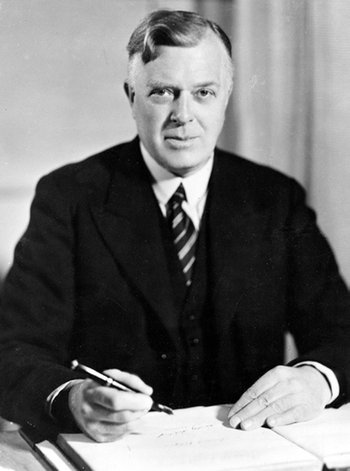 Pick's legacy continued long after he left the Underground in 1940. Successive publicity officers developed the poster programme by commissioning outstanding designers in the post-war era, most notably FHK Henrion, Tom Eckersley and Abram Games. Requests for surplus posters continued too, with London Transport establishing retail outlets to meet demand, firstly at 55 Broadway and now via London Transport Museum shop. 
Although poster commissioning declined in the 1970s, recent decades have witnessed a marked revival. Led in part by the Platform for Art/Art on the Underground programme, and the museum's own role in commissioning new images, the best posters of the last 30 years can match the 'Golden Age' of the pre-war era. These include designs by Howard Hodgkin, Peter Blake and Gillian Ayres. I especially like the retro-style lino-cut posters of Paul Catherall and the flat-colour abstraction of recent graduate Esther Cox – two artists who symbolise the ongoing tradition of using established and emerging talent.
To find out more about LTM's amazing poster collection, visit the museum in Covent Garden or view the entire collection online at https://www.ltmuseum.co.uk/collections/collections-online/posters. Regular tours of the poster collection are held at Acton Depot, and a huge amount has been written on the subject. A full biobibliography can be viewed here: https://www.twentiethcenturyposters.com/pages/bibliography 
David Bownes -  Twentieth Century Posters and former Head Curator, LTM
Images related to the article - click to see the full image and read captions