Kenneth Steel was a skilled Sheffield artist and commercial illustrator who created visuals for classic mid-century travel posters and architectural landmarks, yet his name remains little known. This December, a new exhibition opening at Weston Park Museum will shed new light on Steel's considerable achievements. Places in Time: the Art of Kenneth Steel will bring together the most comprehensive collection of his art ever to go on display, including over 100 drawings, paintings, prints, posters and more.
Born in Sheffield in 1906, Steel became interested in design at an early age and gained a scholarship at the Sheffield Technical School of Art at the age of 12. On leaving education he became an engraver, but devoted his spare time to developing his painting, finding early inspiration in the Peak District and tuition from the renowned Sheffield artist Stanley Royle. In 1932 he secured a publisher for his engraved work, with coverage in the Sheffield Telegraph describing Steel as the year's "the biggest artistic find". Steel was the youngest artist to be elected to Royal Society of British Artists in 1936 and saw his work exhibited in two solo exhibitions in London (1934 and 1937) and a third in Dublin in 1938.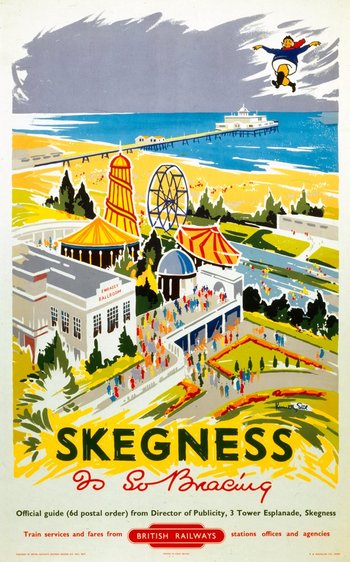 Co-curated with Kenneth Steel biographer and historian, Edward Yardley, Places in Time: The Art of Kenneth Steel will explore the breadth of Steel's artistic career, including his printmaking, early architectural watercolour work and perspective drawings. Visitors to the exhibition will also see a wide range of Steel's commercial work on display, including classic railway posters and carriage prints, as well as a selection of oil paintings he made of overseas locations, from the Balearic Islands to New York City.
Amongst the works featured in the exhibition are:
Sheffield Castle (1964) – The Brightside and Carbrook Co-operative Society commissioned an imaginary view of Sheffield Castle as it might have looked in the 17th century for their head office in Angel Street, which stood on the original medieval site. Steel completed a watercolour study before executing a larger oil painting, which was hung in the company boardroom. The Lord Mayor of Sheffield used a colour reproduction of the painting for his Christmas card in 1965.
Skegness is So Bracing (1956) – After World War Two, opportunities arose for Steel to increase his commercial artistic activities in a number of different formats. He received commissions to create promotional posters for British Railways, like this one promoting the seaside town, and also produced poster work for British European Airways.
Electricity Sub Station, Moore Street, Sheffield (1965-6) – As a commercial artist Steel found work preparing watercolour washed perspective drawings commissioned by the construction industry and the local authority. The Electricity Sub Station is a classic piece of Brutalist architecture designed by Sheffield firm Jefferson Sheard & Partners in 1968.
Lucy Cooper, Exhibitions and Display Curator at Sheffield Museums said:
"Kenneth Steel's work is recognisable to many, but his name is relatively unknown. The exhibition is a fantastic opportunity to celebrate such a consummate artist in his hometown of Sheffield and for visitors to enjoy a wide range of his work, spanning over 50 years."
Edward Yardley said:
"The sheer variety of Kenneth Steel's artistic output has long been admired by a few loyal private collectors but is largely unknown to the general public. He was an artist who laid such importance on fine draughtsmanship and strong colour. This exhibition, full of nostalgic images, will hopefully surprise and delight Weston Park Museum visitors."
Places in Time: The Art of Kenneth Steel opens at Weston Park Museum on Friday 17 December 2021 and continues until Monday 2 May 2022 – entry to the exhibition is free.
Further information on Kenneth Steel can be found at kennethsteel.co.uk
Amy Farry
Communications Officer
Sheffield Museums
amy.farry@sheffieldmuseums.org.uk