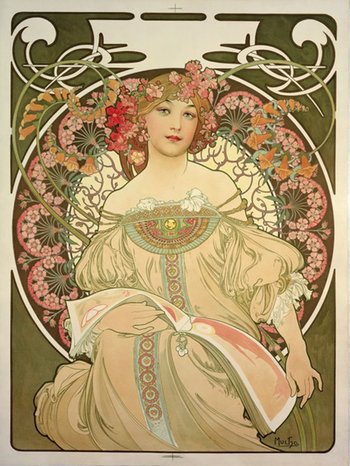 PRESS RELEASE
Alphonse Mucha, Rêverie, 1897, colour lithograph. Copyright © 2021 Mucha Trust
They were everywhere in the nineteenth century: ornate illustrations of elegant women surrounded by stylised flowers and flamboyant swirling lines. Seven years after Czech artist Alphonse Mucha (1860-1939) arrived in Paris he became world-famous overnight with his poster Gismonda (1894), designed for theatre superstar Sarah Bernhardt. Le style Mucha soon became synonymous with Art Nouveau, the modern art movement that came to define the look of the French capital. This spring, in collaboration with the Mucha Foundation, Kunstmuseum Den Haag will be showing a large selection of the work that made Alphonse Mucha so famous, alongside items from Kunstmuseum Den Haag's own collection of colourful glass and spectacular costumes from the late nineteenth century, to give a unique impression of Mucha's Paris – the place where it all began.
Paris, centre of the modern world
Having started his artistic career in Moravia (in today's Czech Republic), Vienna and Munich, in 1887 Alphonse Mucha arrived in Paris. A monthly allowance from a patron enabled him to develop his art further in the French capital. Paris, with all its art academies, galleries and museums, was the centre of art in Western Europe, and the perfect place for a young artist at that time. It was also the capital of modernity, with a vibrant nightlife, brand new boulevards, modern department stores full of luxury goods and artificial lighting that lit up the city until long after sundown. And of course there was the Eiffel Tower, the ultimate symbol of industrial and technological progress, which was still under construction at the time. When Mucha arrived, the city was like a sparkling jewel. This Paris, the centre of the modern world, attracted many people.
Success
Mucha enjoyed little success as a painter in his early years in Paris, and he worked as an illustrator to make ends meet. Seven years later, he scored an overnight success and his illustrations were suddenly everywhere on the streets of the city. In 1894 he received the commission that would change his life: to design a poster for Gismonda, a production starring theatre legend Sarah Bernhardt. Mucha made a life-sized image of Bernhardt, depicting her as a divine, timeless creature surrounded by halos, elegant lines and stylised floral motifs. The poster was so popular that copies were even stolen off the streets. Besides a long-term contract with Bernhardt, it also led to many other commissions for posters, packaging, book covers and jewellery.
Art Nouveau
Mucha's distinctive style, le style Mucha, has become synonymous with Art Nouveau. In Dutch it was literally called 'New Art', and is particularly associated with a salad oil label of the time; in German-speaking countries it is known as Jugendstil. Interestingly, Mucha himself always denied his connection with this decorative international movement, arguing that art is not 'new, but "timeless"'. Nevertheless, the stylised linework, decorative motifs, natural forms and blurring of the boundary between fine and decorative arts are all quite typical of Art Nouveau.
For all
Before Mucha became famous, he was already convinced that art could enhance quality of life, and should therefore be accessible to all. His posters, found all over Paris, turned the city into an open-air museum where anyone could enjoy art on the street. When printer F. Champenois proposed in 1896 that his extremely popular illustrations no longer be used for advertising but be sold as decorative panels, Mucha saw it as the perfect opportunity to bring his lofty artistic mission to fruition. Produced in series, his work was more affordable than a painting. And Mucha's work is still popular: over a century later it still hangs in many homes.
Exhibition
Kunstmuseum Den Haag will be showing the work that made Alphonse Mucha famous: posters and illustrations, and decorative art designs, all set against the vibrant background of fin-de-siècle Paris. Late nineteenth-century costumes will recall the Parisians strolling along the boulevards, and colourful glass from the same period by Émile Gallé and Moser & Sohne will show the close relationship between Mucha's work and Art Nouveau. The exhibition will also consider the rediscovery of Mucha's work in the 1960s, and how his style resonated in popular culture, flower power and Woodstock, as illustrated in the designs for album covers and concert posters for bands like Martha & The Vandellas, The Rolling Stones and Pink Floyd. Kunstmuseum Den Haag will show the circumstances in which Alphonse Mucha became, and remains, world-famous.
The exhibition is being produced in collaboration with the Mucha Foundation.
PR and Communication: Zaida Bouwmeester | ZBouwmeester@kunstmuseum.nl | +31 (0)6 42 50 77 63
Images: Alphonse Mucha | Kunstmuseum Den Haag