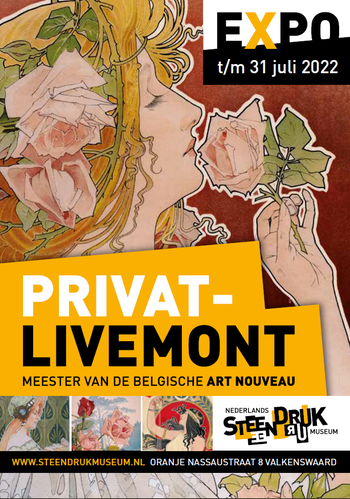 Privat-Livemont, master of Belgian art nouveau
15.02.2022 – 31.07.2022
The Dutch Museum of Lithography presents (for the first time since 1904!) a unique retrospective of the lithographic oeuvre of Privat-Livemont, the grand master of Belgian poster art. His work is often mentioned in the same breath as prominent contemporaries such as Alphonse Mucha and Adolphe Crespin.
Who was Privat-Livemont?
Privat-Livemont (1861-1936) was one of the most productive graphic artists in Belgium. He made his breakthrough in 1896 with his famous advertising poster for the Belgian absinthe brand Absinthe Robette.
His art nouveau style was very popular with Dutch, Belgian and French entrepreneurs, including Cacao Van Houten, Boldoot and Bols.
In addition to his popular art nouveau posters, Privat-Livemont was also as a painter-decorator responsible for many of the sgraffiti drawings on art nouveau façades in Brussels.
Unique expo in the Netherlands
Despite the popularity of his work, Privat-Livemont's collection became fragmented not long after his death. Therefore, Privat-Livemont's oeuvre was last exhibited in the Netherlands more than a century ago.
From February 15 until July 31 2022, the exhibition 'Privat-Livemont, master of Belgian art nouveau' will be on display in the Dutch Museum of Lithography in Valkenswaard.
PR and Communication: Kim Hagedoorn | marcom@steendrukmuseum.nl | +31 (0)40 204 98 41