Rare vintage Swiss poster collection finds a home at Virginia Tech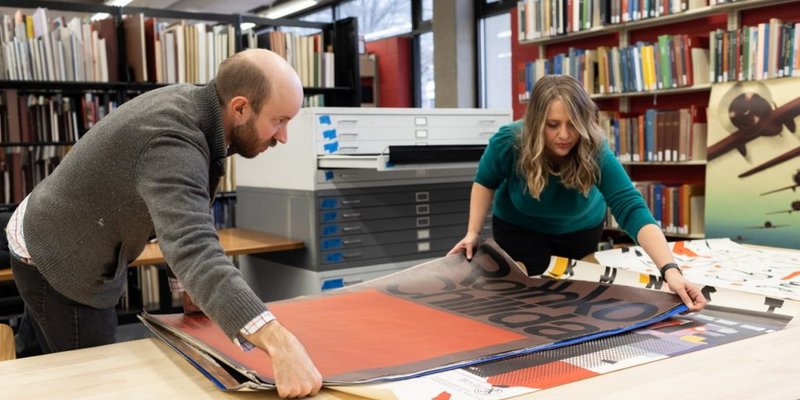 Flour, water, and sugar are common kitchen ingredients used for baking hearty breads and sweet pastries. But in the 1960s-1990s they weren't just used for cooking.
For as little as one dollar a gallon, these ingredients could be boiled together to create a thick, sticky, wheatpaste that adheres to paper - think the rubber cement you had in school as a child but white and paste-like. This concoction was then applied to batches of the same advertising posters and attached repetitively to the sides of buildings, construction sites, night clubs, and barricades to draw people's attention. This practice is called Wild Posting, also known as wheatpasting, flyposting or bill posting, and is street-level, in-your-face, fast-composed advertising of news, events, art, and opinion - think Twitter.
Recently, a beautiful collection of 935 vintage Swiss posters were generously donated to University Libraries by retired Purdue University professor Dennis Ichiyama. The posters are largely advertisements which were known to be wheatpasted and posted up in the streets of Europe. The bulk of the collection contains posters ranging from the mid 1980s to the late 1990s with some ranging from the 1960s to the 2010s.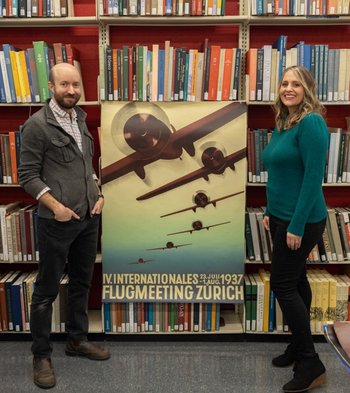 A little more than 600 of the posters are the standard Swiss poster size of 36.5  by 50.5 inches and are mostly screen printed with some linocut prints, lithographs, and digitally printed posters included. The rest of the 327 are a variety of linocut, screen print, letter press, lithograph, and digitally printed posters in many sizes. 
These rare posters will reside in the Art and Architecture Library as a teaching collection. Eventually, they may be used for exhibitions, but the main purpose is for the posters to add another perspective of design that will benefit the students in the College of Architecture, Arts, and Design (AAD). Additionally, the Masters program in Material Culture and Public Humanities plans to help archive and research the collection.
 "While Graphic Design students might be the first group that comes to mind when thinking of poster design, all students in AAD will benefit from more exposure to different types of design," said Scott Fralin, exhibit program manager and learning environments librarian who helped coordinate the poster donation. "Perhaps a poster layout will inspire a building design for an architecture student, or a color palette will provide fresh inspiration for someone in interior design."
The posters are one of the largest collections of Swiss posters in the United States and are a notable addition to the library and program. "It's an experiential learning working collection, meaning students are able to carefully touch and interact with the posters, which gives them a very unique and personal experience," said Meaghan Dee, associate professor of graphic design in the School of Visual Arts, College of Arts, Architecture, and Design.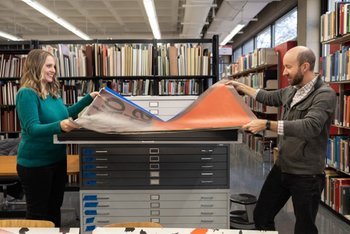 Ichiyama began collecting the posters in 1976 while a college student in Basel, Switzerland, which was plastered with these posters.
 "The posters reminded me of what things were like back in the days of bicycles with a pail full of thick glue and a large, coarse bristled, paint brush on the back," said Ichiyama. "I was amazed to see history come alive! As a student looking at things in a very old city, they were marvelous! They were just so beautiful."
 Ichiyama planned to teach when he returned to the states and was looking for a Swiss souvenir to bring home with him to use in his classroom. "I thought the posters would be perfect," said Ichiyama. "Along with Swiss chocolate, of course, these posters would be a cheap way to bring back souvenirs. A bonus was that they stored flat under the bed."
Being a student with a small budget, living off of fruit, yogurt, cheese, and chocolate, Ichiyama thought this was the perfect plan.
Ichiyama made a small group of American friends that were also studying in Switzerland. They would get together for weenie roasts and potato salad and practice the unique language there, a Swiss form of German. Although communication was difficult, and since you couldn't tear the posters down because they were printed on a temporary paper, Ichiyama contacted the poster publisher AlgaminaPlacopGilechoft (APG), meaning General Poster Company. The posters were replaced frequently due to graffiti, so the company gave him the leftovers. The company along with teachers who also pasted the posters up at his school, provided him with a robust collection.."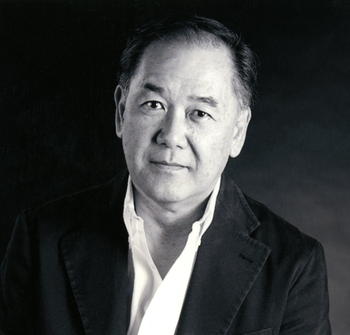 The problem was that over the three and a half years Ichiyama was studying in Switzerland, the stack of posters under his bed became very heavy. So heavy in fact that when it was time to return home to the states, he had to ship them by boat. He still wanted to continue expanding his collection of posters and told the poster company he'd be willing to pay for shipping if they'd ship them by mail. They agreed, but to his surprise, started sending batches of award-winning posters.
Each year the Swiss government selected a poster winner from the posters advertised throughout the year. All of the finalists were selected by professional printers, the city, and the Swiss government. All of the finalists' posters were then distributed by the Swiss government as examples of good design and displayed at Swiss embassies to share with people around the world.
 "I knew I was getting the cream of the crop of posters for that year! In the beginning, when they arrived, I would gently unroll them and let them lay flat to slowly regain their shape," said Ichiyama. "I was excited to spread the word about Swiss art and history!"
 Ichiyama used them in his classes to teach techniques of design, topography, and color. "They were so large and the students were very impressed with them," said Ichiyama. "These posters are a form of communicating with images instead of words."
Over the years, Ichiyama sent many letters of appreciation to APG, thanking them for continuing to send the posters. For about 10-12 years, the posters kept coming. "It was like Christmas!" said Ichiyama. "The diameter of the tubes they arrived in at this point were a foot in diameter. They were meticulously and perfectly packed!"
After retiring from Perdue University, Ichiyama realized his collection was so large he couldn't keep storing them at his home. He also didn't want them collecting dust.
Dee had met Ichiyama at the Southeastern College Art Conference (SECAC) conference, an art, art history, and design event, in Summer of 2014. While catching up in 2021, Ichiyama mentioned his large vintage poster collection was looking for a home where the entire collection could be housed together. The Graphic Design program in the School of Visual Arts and the Art and Architecture Library came together to give them the perfect home.
After sorting out the logistics and costs associated with carefully transporting the collection from Indiana to Virginia, the posters arrived in Blacksburg in late June 2022.
 "They mean a lot to me," said Ichiyama. "I'm glad the posters have a new life. They should be seen and touched."
 "I love design and designed artifacts," said Dee. "There's something so exciting about being able to touch design works, particularly those from a different era, that allows you to engage in a deeper way. Swiss posters are such a lovely, oversized scale too —much larger than the typical U.S. poster. And some of the posters are more like billboards, as it takes three posters to complete the image."
 "While it's wonderful when we get to travel with our students to other countries and cities, we don't always have the chance to," said Dee. "So when that isn't possible, it's great to bring artifacts to them. And there are few places in the world with this sort of collection, so students really have access to something special here at home."
 "These posters have been a joy to go through," said Fralin. "I have spent some time gathering data on the posters and I find it hard to stop. So many of these posters are beautiful and engaging which makes it hard to move to the next. The 327 miscellaneous posters come from a wide variety of sources, including original works from Ichiyama. These too are a joy to leaf through featuring band posters, museum advertisements, and so many other wonderful examples of design."
Many of the posters found in the collection are also held in museums around the world. "There are relatively few collections like this at universities," said Fralin. "It is a huge asset to the Visual Communication Design program here, as well as all other students in AAD