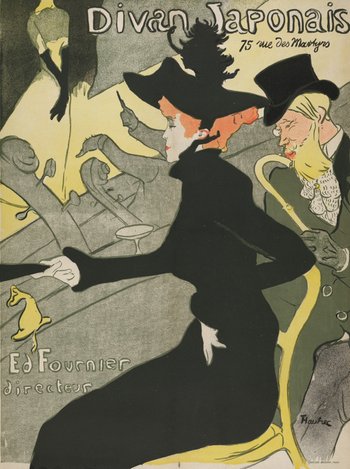 This selection from VMFA's collection of Art Nouveau posters highlights the late 19th-century design style, which emphasized beauty in natural forms and movement and was often expressed through flowing, stylized lines and flourishing patterns. The French, Belgian, Viennese, and American posters on view include works designed by Alphonse Mucha, Théophile-Alexandre Steinlen, Henri de Toulouse-Latrec, Manual Orazi, Josef Maria Auchentaller, and others.
Art Nouveau posters pushed the preconceived notions of "fine art" and merged the gap between academic art and applied arts, and the poster craze spread from Europe to America. Advertising everything from theatrical revues and products to newspapers and literary journals, posters also served as agents of social change, depicting new images of women as fashionable and independent people. While their styles of Art Nouveau vary greatly, this exhibition's posters and their subjects offer a glimpse into societal interests during the late 1800s.
Posters gave artists the opportunity to disseminate their work to far-reaching audiences and build large followings that included art collectors. With the advent of new industrial printing technology, these commercial artworks were rapidly mass-produced and disseminated throughout cities, turning average urban streets into colorful landscapes, and the style associated with Art Nouveau posters laid the foundation for modern and contemporary graphics.