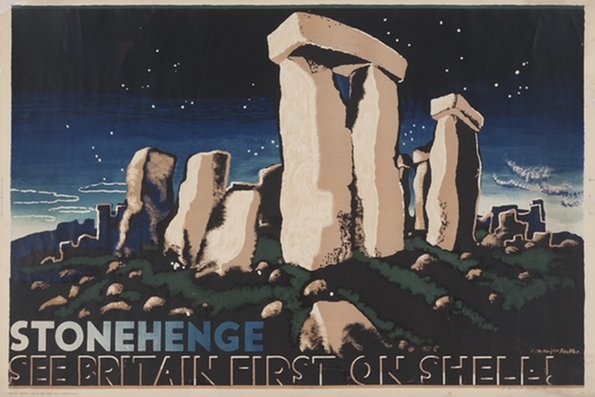 Edward McKnight Kauffer, Stonehenge, 1931, Lithograph poster, 76 x 114 cm (30x45 inch) Shell Heritage Art Collection, Copyright Simon Rendall.
During the 1920s and 1930s, the British poster flourished in an age of enlightened patronage that cultivated links between commercial advertising, the visual arts and public engagement.

Under the publicity direction of Jack Beddington, Shell-Mex (and later Shell-Mex and BP Ltd) became one of the very best patrons of modern art, inviting a prodigious array of artists to create posters for the company, commissioning young and emerging talent as well as established figures, and so earning praise from the art establishment and appreciation by the public.

Its great 'lorry bills' series extended from the 1920s to the early 1950s and was a venture that sprang from the company's desire to link its commercial objectives with cultural excellence and endeavour. These posters were recognised both at the time and in retrospect as making a significant contribution to the history of 20th-century art and design, through the sheer range and quality of artists commissioned and the diversity of styles they employed. High standards of technical production and an astute placement strategy added to their popularity.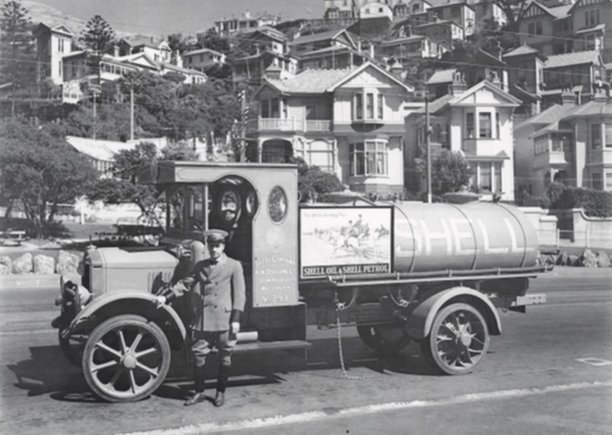 Shell Lorry Bill Photograph The Quick Starting Pair, Shell Lorry, New Zealand, Photograph courtesy of the Oliver Green Collection.
Shell's publicity had taken a decisive new turn with the appointment of Jack Beddington in 1929 as Publicity Manager and his elevation three years later in 1932 to the post of Publicity Director of the newly amalgamated Shell-Mex and BP Ltd. After a spell working in Shanghai, Beddington managed to persuade his superiors to move the Shell account to Stuart's Advertising Agency, a small firm founded in 1922 by Hugh Stuart Menzies.

Beddington had been particularly impressed by Menzies' work for Fortnum & Mason. From the time of Stuart's appointment, press advertisements by 'Fortnum' artists such as Rex Whistler and Edward Bawden started to appear. Bawden's quirky, witty illustrations of British place names – accompanied by punning captions such as 'The Severn Bores but Shell Exhilarates', 'Land's End but Shell goes on forever' and 'Gerrard's Cross but Shell's Pleasing' – were especially popular.

One image that evolved into a highly successful series of both advertisements and posters began as a drawing captioned 'That's Shell – that is!' by John Reynolds (son of the cartoonist and Punch art editor Frank Reynolds), which showed a shovel-wielding roadworker looking after a car that had disappeared from view. After a helpful suggestion by a member of the public, the central figure in Reynolds' first version was altered to became double-headed and the accompanying slogan changed in both advertisements and posters to 'That's Shell – That was!'. One later version with the same slogan showed the Loch Ness Monster startled by the passage of a speeding car.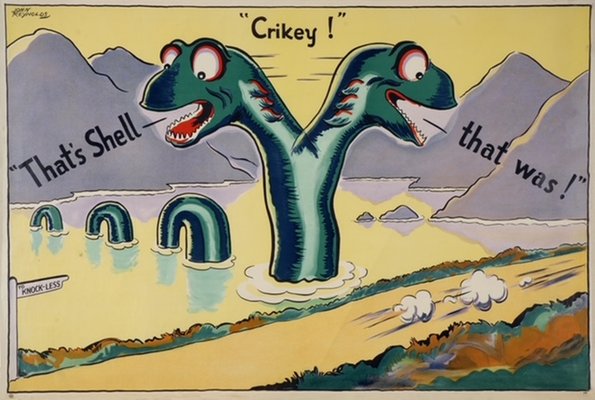 John Reynolds, Crikey! That's Shell - That Was, 1933, Lithograph poster, 76 × 114 cm (30 × 45 in), Shell Heritage Art Collection.
However, the lorry bill posters that were to make Shell famous were a personal initiative of Beddington's, rather than Stuarts. Everywhere You Go You Can Be Sure Of Shell (1932–52) was an important landscape series in which the company sought to associate its brand with nature and with art, encouraging motorists to explore the countryside while reassuring them of Shell's presence everywhere. Paradoxically, an apparently timeless rural idyll was now accessible (and potentially vulnerable) thanks to advances in modern transport.
Shell's poster slogans and imagery targeted a middle-class audience: the Visit Britain's Landmarks (1936–7) campaign encouraged the Shell-assisted motorist to discover unusual topographical features and architectural curiosities – monuments, churches, castles and towers. It also included a 'Follies' group, playing to a contemporary taste for architectural whimsy and the picturesque.
Using an alternative publicity strategy, the series These People Prefer Shell (1929–39), otherwise known as 'Conchophiles' or 'Shell Lovers', and These Men Use Shell (1935–9) used wit and jokey humour to reach their audience. Both series (sometimes categorised jointly as These People Prefer Shell) portrayed a remarkable range of professional and social groups – from explorers, airmen, film stars and antiquaries to artists, blondes and brunettes, and footballers.
In masterminding the lorry bills series, Beddington showed his flair for talent-spotting and confident decision-making, giving artists their themes according to commercial objectives but allowing them freedom to treat them in their own idiom. He was known to describe himself as a gifted amateur, and he delighted in the discovery of creative gifts in others.
The range of artists, designers and illustrators whom Beddington commissioned for Shell-Mex and BP's lorry bill series was eclectic and remarkable. They included Edward Ardizzone, John Armstrong, Lord Berners, Vanessa Bell, Frank Dobson, Tom Eckersley and Eric Lombers, Clifford and Rosemary Ellis, Hans Feibusch, Clive Gardiner, Ben Nicholson, Barnett Freedman, Duncan Grant, Rowland Hilder, Tristram Hillier, Curtis Moffatt, Cedric Morris, Charles Mozley, Paul Nash, John Piper, Tom Purvis, Hans Schleger, Graham Sutherland and Carel Weight.
Among Beddington's circle of friends was Edward McKnight Kauffer, who was to prove the most prolific designer of Shell lorry bills. An eclectic borrower of artistic styles and mannerisms, his designs ranged from stylized naturalism through to art deco and European modernism. Stonehenge (1931), in See Britain First on Shell, depicting the mysterious prehistoric monument against a starry twilit sky, is in the contemporary neo-romantic painting style, and also relates to his own contemporary landscape paintings.
In complete contrast is Kauffer's modernist B.P. Ethyl Anti-Knock Controls Horse-Power (1933), combining photography (Kauffer's own night- time photograph of Horse restrained by a Groom – also known as one of the 'Marly Horses' – in the Place de la Concorde, Paris) with slanting geometric forms (a zig-zag flash of lightning).
In Magicians Prefer Shell and Actors Prefer Shell (1935), Kauffer deployed abstract forms and interlocking planes in a more cubistic style to suggest, respectively, the magician's sleight of hand and the actor's mysterious transformation. Unlike many of the commissioned artists who produced an image that was subsequently dropped into a central space surrounded by a 'frame' bearing the text, Kauffer often integrated the typography into the poster design.
While the primary purpose of Shell and BP's lorry bills was of course advertisement, they also extended their reach to new audiences with a developing taste for contemporary art. During the second half of the 1930s, for example, Shell-Mex and BP posters of the 30 × 45-in size were made available to the public.
Shell posters were also entering the museum world. At the Victoria and Albert Museum's (V&A's) request, the company donated large numbers of impressive posters to the Museum's Department of Engraving, Illustration and Design – a forerunner of the present Word & Image Department, which holds a national collection of posters. An early acquisition was John Reynolds' That's Shell – That was! (1930). Works by such artists as Rex Whistler, Paul Nash, Graham Sutherland, Edward McKnight Kauffer, Ben Nicholson, John Armstrong and Duncan Grant also entered the V&A's permanent collections.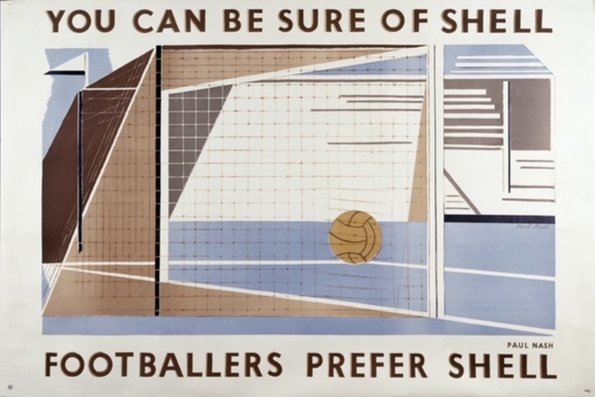 Paul Nash, Footballers Prefer Shell, 1935, Lithograph poster, 76 × 114 cm (30 × 45 in), Shell Heritage Art Collection.
After a triumphant decade of publicity under Beddington's management, the outbreak of the Second World War brought an abrupt end to commercial advertising by individual oil and petroleum companies in the UK. Shell and BP, and the other brands on sale, were consolidated together into a generic fuel labelled 'pool petrol'. It was not until 1949, in the after-shadow of war, that companies could begin to announce their branded products again.
However, in 1940, partly due to the influence of Kenneth Clark, Beddington was appointed Director of the Films Division of the Ministry of Information, where he found himself once again in a creative environment. Equally, many of the artists previously commissioned to contribute designs were now in demand in other spheres. A remarkably large number were invited to become official war artists by the War Artists Advisory Committee under the guidance of Sir Kenneth Clark – including Ardizzone, Armstrong, Bawden, Freedman, Grant, Nash, Ravilious, Rosoman, Sutherland and Weight.
An impressive number were also among the great roll call of artists commissioned to make works for the Recording Britain series. This unique documentary project, initiated by Clark at the start of the Second World War and funded by the Pilgrim Trust, invited artists working on the Home Front to make sympathetic records in watercolour of vulnerable British buildings, landscapes and livelihoods at a time of impending change.
Meanwhile the talents of graphic designers such as Austin Cooper, Tom Eckersley, Hans Schleger and Abram Games were pressed into the service of crucial wartime propaganda.

Hans Schleger (Zéró), Journalists Use Shell, 1938, Lithograph poster, 76 × 114 cm (30 × 45 in), Shell Heritage Art Collection.
Note: for North American customers wanting to buy now from our UK website, in GB Sterling, delivery time varies from 6-12 weeks and P+P is £20.